Kio Cloud Smart Location represents your organization's physical locations - from your campuses and their buildings to the building floors and rooms and spaces. Setup and management of your Smart Location is required to ensure location, occupancy, and tracking accuracy.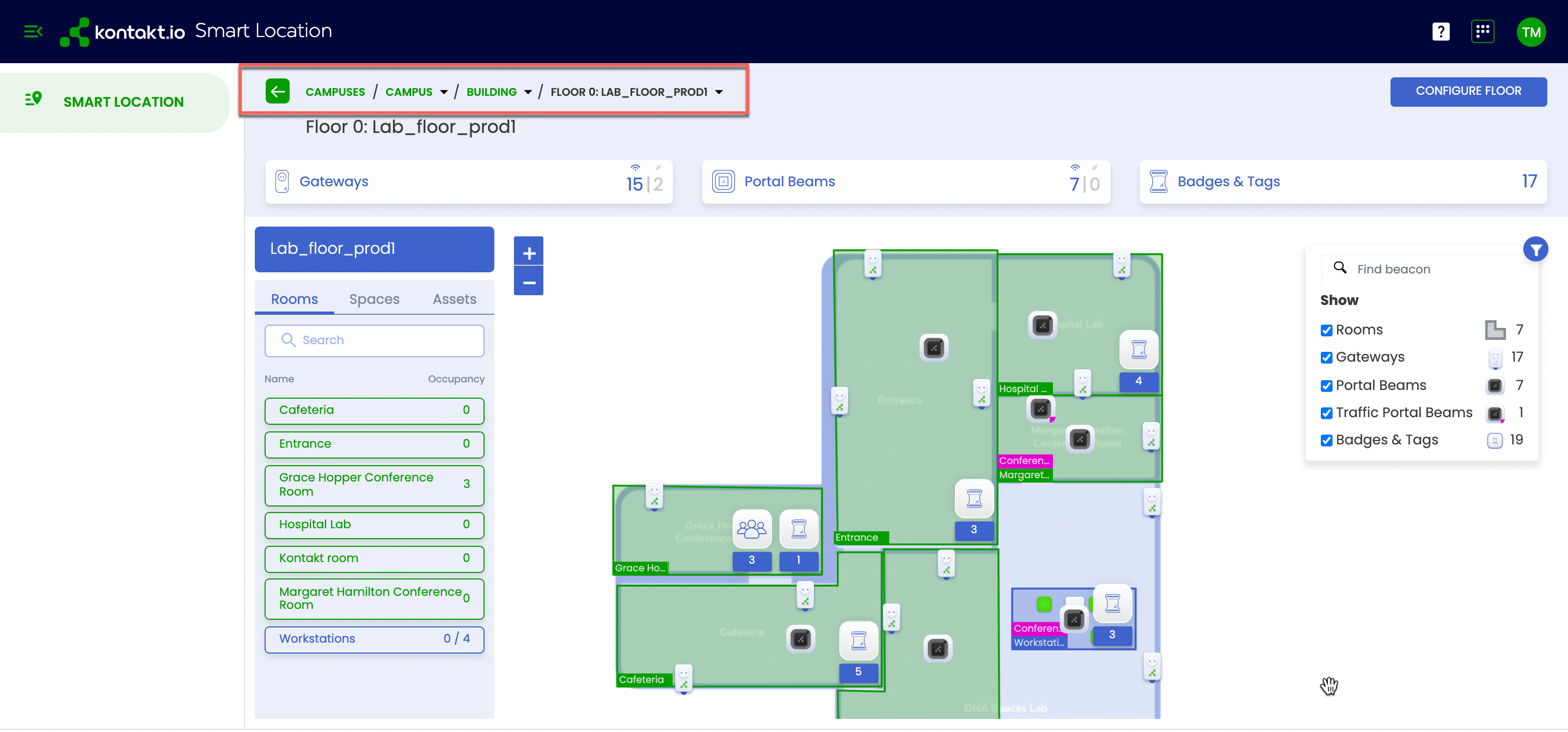 The setup of your Smart Location is one of the first deployment steps and is required to be completed before you begin to install your Kontakt.io devices.
During setup, you'll add a campus, each campus building, and the floors for each building. For each floor, you'll then upload a floor plan and draw each space within the floor - including rooms, corridors, to all areas being monitored for tracking or location solutions.
When deploying and installing your Kontakt.io stationary devices, including Portal Beams, Portal Lights, and Reference Beacons, the devices are assigned to their Smart Location installation location including placing them onto the floor plan at their exact location.
Note
When a change is made to your device deployment, such as moving or removing a Kontakt.io stationary device, be sure to update its assigned Smart Location.
Concept

Definition

Floor Plan

A visual representation of a building floor. During setup, a floor plan image file is uploaded for each building floor.

The information available from a floor plan includes:

The assigned location of stationary infrastructure devices, including Portal Beams, Portal Lights, and Anchor Beacons.

During installation, these devices are assigned to their exact room install location and placed onto the floor plan to map their exact location within their assigned room.

The real-time location of tags and badges.

The real-time occupancy measurements of Portal Beams.

Room

The basic building block for both location and occupancy data. It's the most granular location level reported.

There are several types of room types:

Room: identifies an enclosed room with interior walls.

Virtual Room: identifies an open space without enclosed walls. Commonly used for open-concept office spaces or large areas.

Corridor: a walkway or hallway within the floor.

Seats

For use with Portal Beams that are set to Seat mode that detect the occupancy of seats/workstations in a defined virtual room. A single room can have up to six seats.

Space

Portal Beam Footfall Traffic occupancy only

Required for use with Traffic Portal Beams to count people entering (inbound) and exiting (outbound) a room.

Devices

Represents deployed Kontakt.io devices.

Devices located on a floor are grouped by the product model.

Gateways

Kontakt.io Portal Light

Bluetooth® LE enabled gateways that receive beacon data and send and download data from Kio Cloud over the facility's local WiFi network.

Reference Beacons

Kontakt.io Anchor Beacon 2

A stationary beacon for room-level location tracking and indoor wayfinding solutions.

Tags & Badges

Kontakt.io Asset Tag 2, Smart Badge

Tags are commonly attached to moving or stationary objects.

Badges are commonly worn by people.
Kio Cloud Smart Location displays the basic real-time Kontakt.io device data. From the interactive floor plans, you can also dive deeper into the data at both the floor and room levels.
The image below provides an example of floor-level data. Learn more about real-time data.