Together with the Kontakt.io solutions and Cisco DNA Spaces you can drive business outcomes resulting in smart buildings that are built from two of the most powerful, intelligent IoT-enabled platforms.
Kontakt.io's Kio Cloud platform and Internet of Things (IoT) devices are 100% compatible with Cisco Catalyst Access Points.
In environments where Cisco Access Points are deployed for WiFi connectivity and coverage, Kontakt.io IoT Bluetooth® LE devices do not require any additional gateway network devices (Portal Lights). Our platform and devices communicate bilaterally with and through the Access Points already in place. There are no additional required overlay network devices that results in cost savings, less maintenance, and a simple and scalable architecture.
Learn more about the value proposition for IT and networking leaders.
Kontakt.io's partnership with Cisco DNA Spaces delivers a seamless integration with our IoT devices and Kio Cloud platform. The following provides a high-level overview of the key infrastructure in place to allow for this seamless integration.
Kontakt.io IoT BLE device data: broadcasted and received by Cisco Access Points over a Bluetooth Low Energy (LE) connection.

Device data is transmitted to the Cisco DNA Spaces cloud platform via the Cisco Access Points.

The Kontakt.io Kio Cloud platform consumes data via the Cisco Firehouse API.

Continuous bilateral data flow: data is received and sent between both cloud platforms, Access Points, and Kontakt.io IoT devices.

Cisco DNA Spaces App Center: where you'll activate Kontakt.io's Kio Cloud platform that delivers out-of-the-box apps for multiple use cases.

Cisco DNA Spaces cloud: where Kontakt.io devices are managed and monitored.

WiFi Access Points: the Bluetooth LE enabled compatible Cisco Catalyst Access Points.

Connectivity SDK: the code library for Bluetooth LE devices that integration vendors, such as Kontakt.io, implement into their proprietary firmware. Allows devices to securely connect and communicate with the DNA Spaces Cloud via Cisco BLE-enabled Access Points.

Learn more about the Cisco DNA Spaces IoT services Prerequisites and Compatibility Matrix.
Kontakt.io IoT BLE devices integrated with Cisco DNA Spaces are available from the Cisco DNA Spaces IoT Device Marketplace. From the marketplace, you can discover, research, and purchase our BLE Internet of Things (IoT) devices.
We encourage you to visit the IoT Device Marketplace - you'll need to sign in with your Cisco DNA Spaces account or LinkedIn profile. From there, you'll select your Industry and Uses Cases to begin exploring the Kontakt.io IoT devices.
When you're ready to request a quote or get more information, reach out to sales@kontakt.io.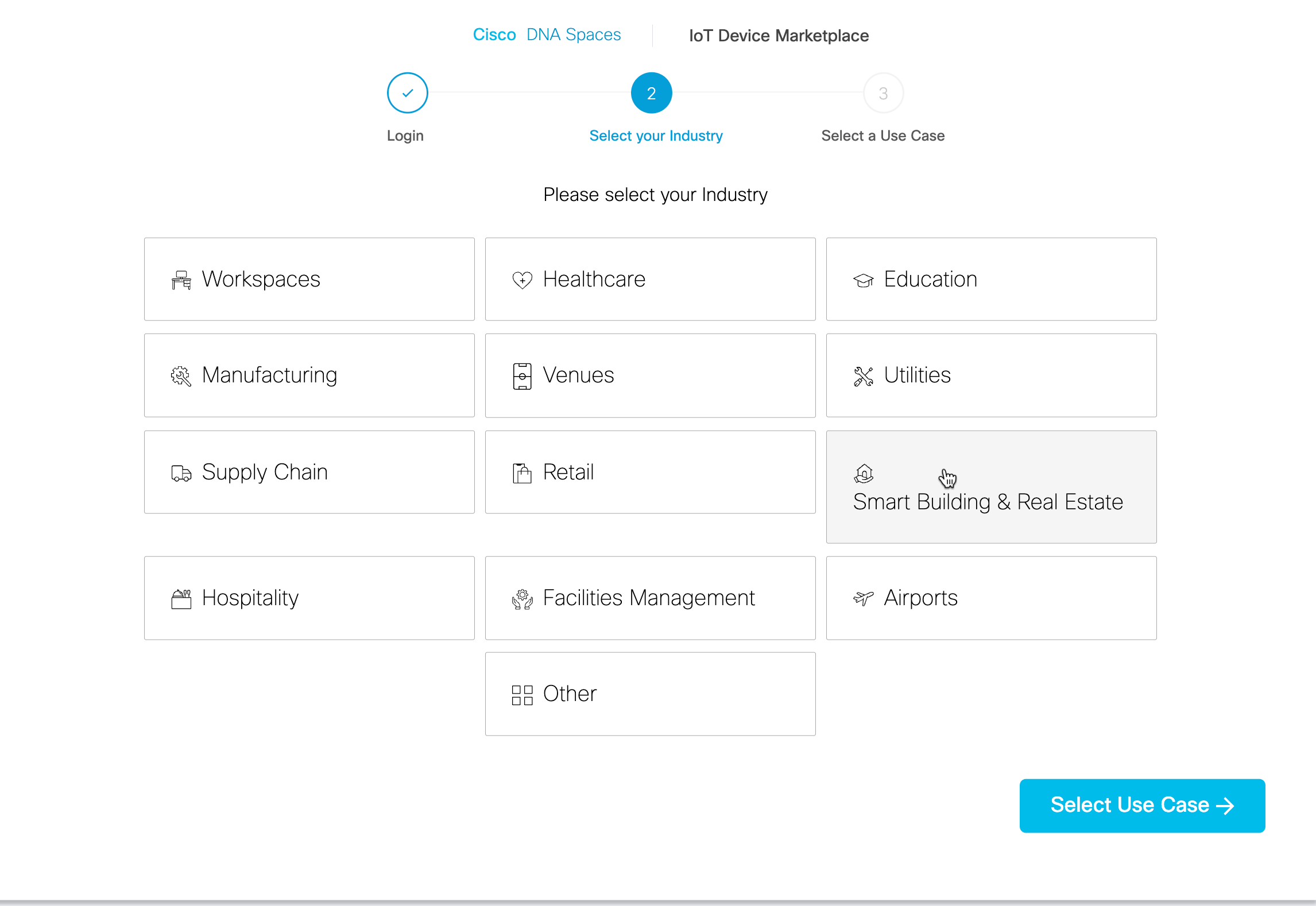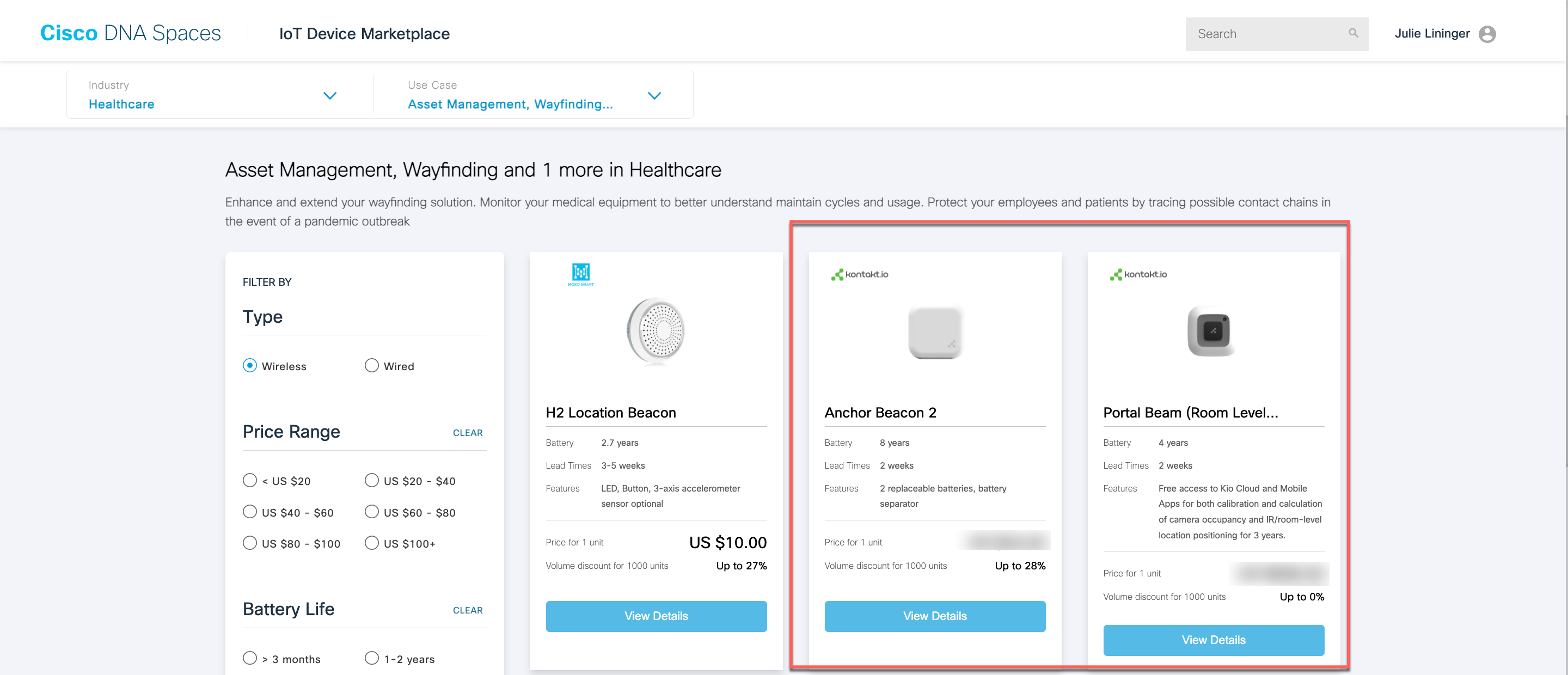 You can get hands-on experience to learn more about the seamless integration between Cisco DNA Spaces and Kontakt.io with the Free Starter Kits.
Each kit contains pre-integrated IoT devices, including Kontakt.io devices, that showcase the true potential of each solution. Available kits include Asset Management, Environmental Monitoring, Space Occupancy, and Indoor Wayfinding.
To claim a starter kit, go to https://dnaspaces.cisco.com/demo/.