At Kontakt.io, we constantly ask ourselves, "How can we help our customers and partners get the most out of our solutions and services?".
Over the last few months, our team analyzed what's needed and one outcome was a redesign of this Help Center and a new Kontakt.io Developer Center.
We moved to a new publishing platform that provides a modern developer experience. We encourage you to visit the new Kontakt.io Developer Center.
One resource: all API and SDK developer resources in one site.

Documentation resources: from getting started and more!

API Reference: all available endpoints, including schemas.

Interactive endpoints: send requests with your API Key and other required parameters. See your results!

Request samples: select from the list of available languages you love!

Examples: we know developers love examples. We will continue to add more!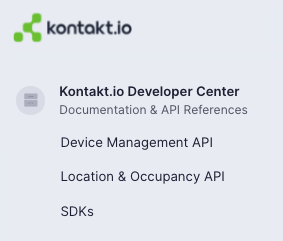 First, we've migrated all content from our other Knowledge Base into this one Help Center. You'll now have a single online resource for all Kontakt.io help resources.
We've also restructured the content. You'll notice some new categories and hope that you find it easier to find what you need.
Our team will be making continuous updates - our focus is to provide accurate, valuable information.
We want you have the support and information you need at anytime - from working with or team of experts to our online resources.
We welcome your feedback, from what's working to what we can do better. Submit a request and we'll get it to the right person.