Device Health is a new app available in Kio Cloud designed to keep you informed about the state of your deployed Kontakt.io IoT devices. The app has several features including three available alert types, optional mediums for receiving alerts (email or text messages), and elective monitoring of devices (specific devices, device types, or devices in a particular location).
Important
Device Health currently requires activation by Kontakt.io. To access this new app, please submit a support request to activate Device Health for your organization's Kio Cloud account.

Device Health allows you to define rules that trigger alerts about you devices' health. Most importantly, you set the conditions that matter most to you.
If you would like to get notified for any of the below conditions, Device Health is your match.
Portal Lights are Offline and hence not sending data to Kio Cloud (Alert Rule: Portal Light Offline)

Kio Cloud is not receiving data from tags and room sensors (Alert Rule: Last Seen)

Battery life of tags or room sensors is getting low (Alert Rule: Battery Level)
Click on image to view in full screen.

For examples, see Alert Rule setup examples by use case.
Device Health provides an alert lifecycle that takes an alert from activation to resolution.
It begins with the activation of a new alert when the condition set in an Alert Rule has been reached. Notifications are then sent to staff via email and/or text messages to notify them of the alerting condition. Staff can then acknowledge the alert as an indicator they are taking action and set an alert to resolved when the condition has returned to normal.
If an alert condition returns to normal before it's resolved by staff, the alert is automatically resolved by the system and the alert ends (Autoresolve).
For those mission critical devices, you have the option to set up reminder notifications in the event that an alert is not advanced to resolved within a designated window of time.

Device Health also keeps a comprehensive record of all alerts and a dashboard that provides an at-a-glance view of alert metrics.
From the Alert History Dashboard, you can quickly assess the overall volume and severity of alerts, as well as trends and patterns over time.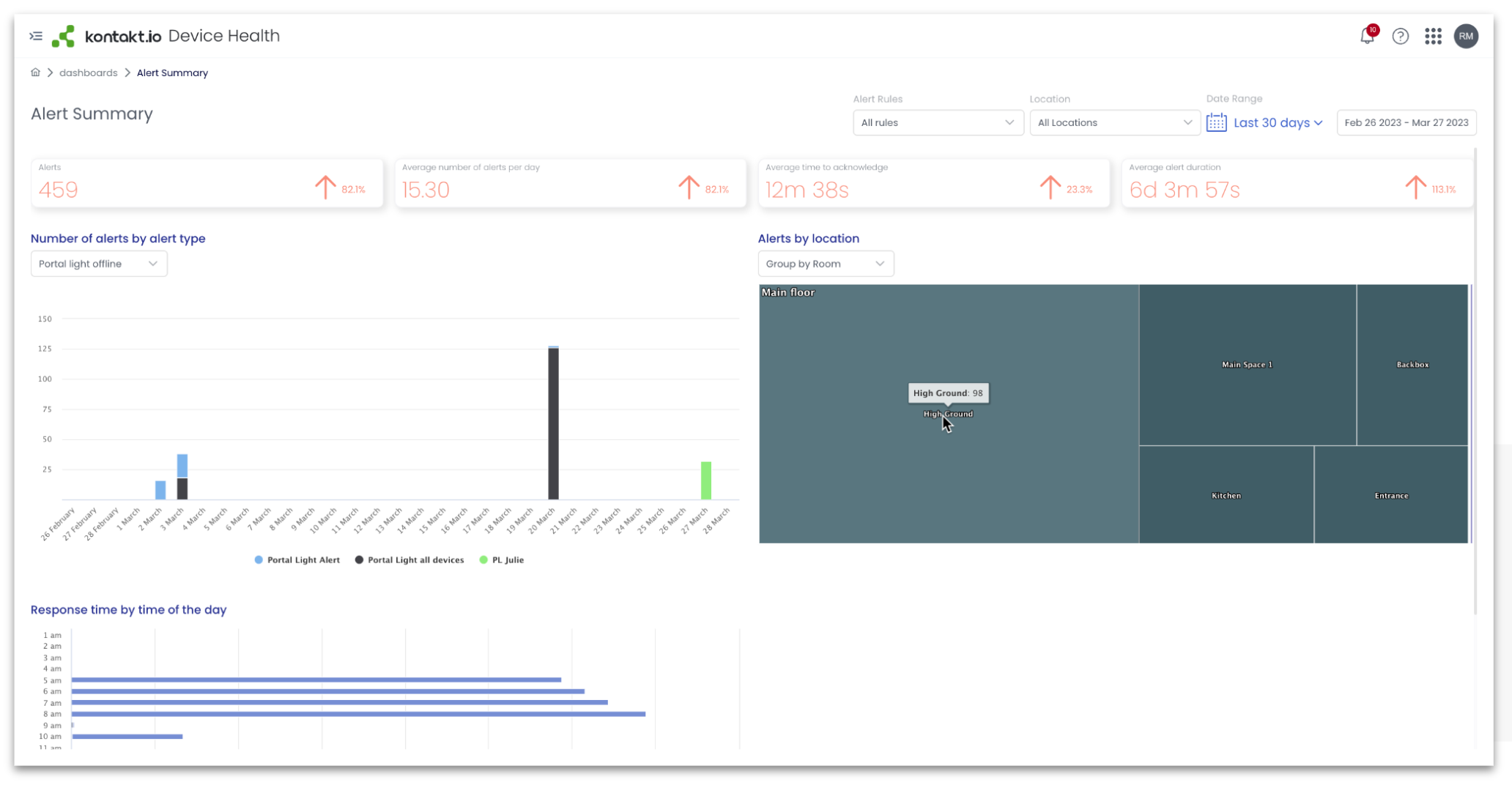 Device Health is an essential Kio Cloud app for anyone who wants to stay on top of their devices' health. So, if you want to avoid surprises and get notified when devices need attention, get started with Device Health today!