Starting this May, Kontakt.io is introducing a terminology update to our device categories within the Kio Cloud platform. Previously, Kontakt.io devices were categorized as Beacons and Gateways and now we're embracing a fresh approach. When you access the Kio Cloud apps, you'll notice a change that devices are now categorized as Tags and Infrastructure.
Why have we decided to make this shift? Our IoT devices are equipped with beacon technology, but this does not represent all the technologies or features of our devices. This updated terminology aims to provide a greater clarity that represents the Kontakt.io ecosystem of our IoT devices and solutions.
Let's dive into these new categories and discover what they mean.
Device Category

Description

Device Models

Tags

Tags are devices that are moving and being tracked by some type of Infrastructure device.

These devices are not assigned to a room location within Kio Cloud Smart Location. Although, their real-time tracked location is available from Smart Location.

Asset Tag

Smart Badge

Nano Tag

Puck Beacon

Heavy Duty Beacon

Tough Beacon

Infrastructure

Infrastructure are those devices that are stationary, maintaining a fixed position within a given location.

These devices are assigned to a room within Kio Cloud Smart Location.

In addition, Kontakt.io Infrastructure devices are required to be deployed and installed with the Kio Setup Manager app.

Portal Beam*

Portal Light

Anchor Beacon**
* may also be referred to as a room sensor within Smart Location.
** may also be referred to as a reference beacon. Alternatively, Anchor Beacons can be deployed as a "tag" affixed to an asset for tracking solutions, but will always be categorized as an Infrastructure device.
This category update has already been made to the Device Management app, and shortly you will see this update in the other Kio Cloud apps.
Click on image to view in full screen.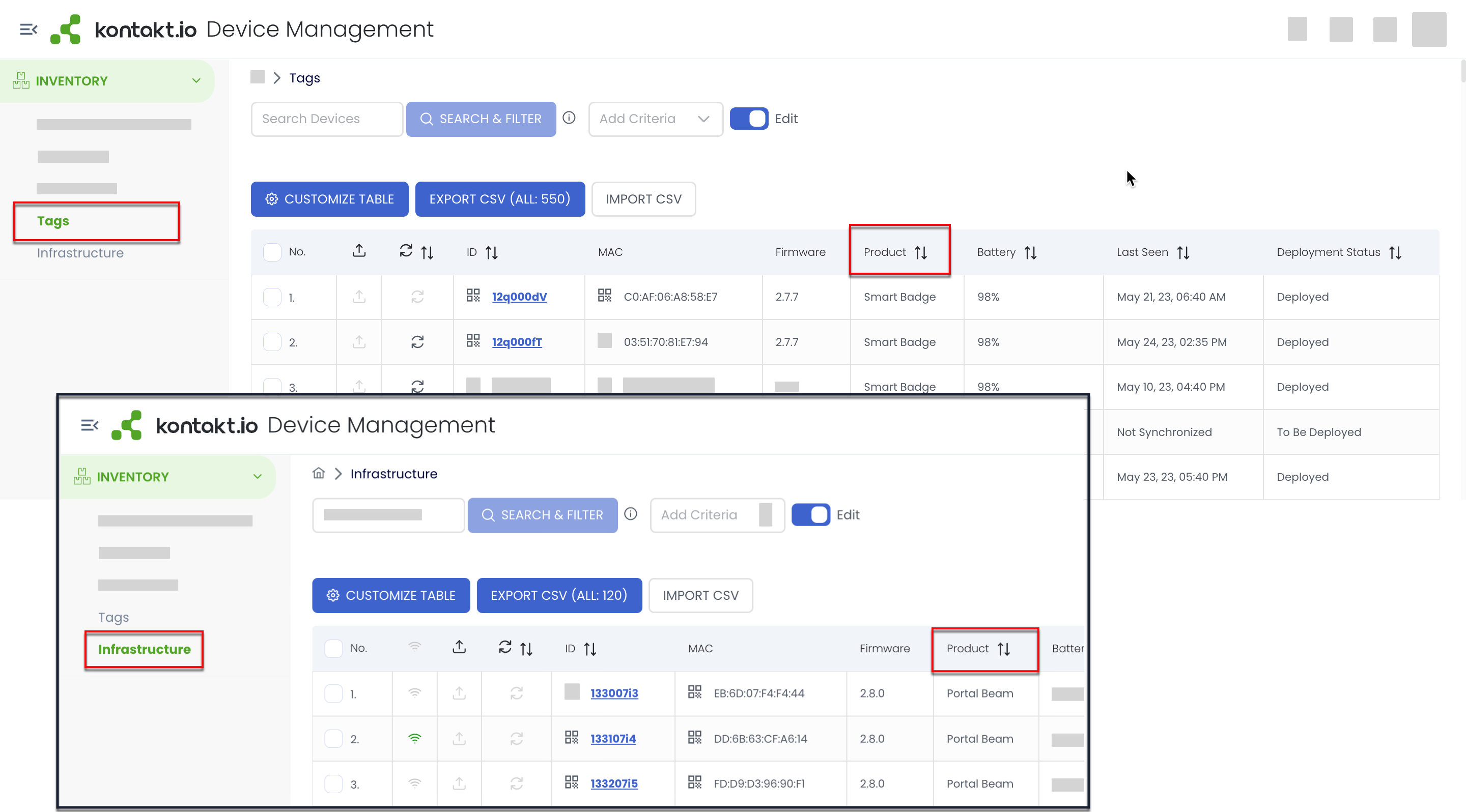 Although this is a shift that may take a little time to adjust to, we are confident that this change is what's needed for greater clarity and ease of use when working with the Kontakt.io ecosystem of IoT devices and solutions.
If you have questions or need additional information, please submit a request to our support team.